Online education has gained much popularity in recent years. Innovations in the digital world have helped people to learn new things by using multiple mediums. It is incredible how online education has evolved over the years, and it continues to revolutionise today's educational system. The eLearning market is booming and it has witnessed a 900% growth since the beginning of the century.
The complete LMS platform for every educator - Mykademy.
Start with a 14-day
free trial today.
The outbreak of the Covid-19 pandemic resulted in the sudden rise of virtual classroom software. From this, individual tutors, educational institutions, enterprises and multinational companies adopted e-learning. This apparent shift has fuelled the need for robust online learning platforms that are cost-efficient and user-friendly. To create and sell online courses, they need an LMS. And what exactly is LMS? Let's discover everything related to LMS in depth.
LMS stands for  Learning Management System, which functions as the saviour of online educators. It helps you to create, sell, and market your own online courses with ease.
It is a SaaS (software as a service) product that helps in easy course creation, content delivery, administration, documentation, reporting, tracking and managing learners. A Learning Management System centralises course content, data and learning materials. As a result, tutors can teach learners, and businesses can train employees with ease. 
An LMS has two sides – the admin interface and the learner interface. The admin side is where the tutor performs tasks such as creating, managing and selling content, enrolling learners, evaluating reports and tracking performance. The admin controls the platform. He/she decides the management of the system and get end-user-specific data. The learner interface is what a learner sees when he/she is enrolled in a course. The learner is determined by who the administrator is and what their goals are. So the 'learner' can be students, employees, trainees, interns, external workers and clients.
If you wish to know more, you can read our blog – what is learning management system.
Before choosing an LMS, it's better to have an idea of how it works. LMS helps gather all the learning materials in one place and make them available for all the users with a single click. With an LMS, you can also divide learners into different groups based on their functions or job roles and assign them single/multiple courses or tests or a whole series of learning materials. LMS helps in tracking and managing the learner's performance as well.
Given below are the steps you need to take to launch your online training course.
Design and

build your own online course

that has demand and is worthy enough to learn online.

Organise your content.

Define your learning objectives and course goals.

Set a price for your course.

Choose the best LMS platform to sell your course.
We have prepared a complete guide to create and sell courses online. Hope it's useful for you to launch your online course.
Users of LMS are not just constricted to educational institutions. Anyone who wants to deliver an online course can use an LMS. Here is a list of those who use LMS for online training purposes: 
Independent tutors

Schools, colleges and universities

Teachers, administrators, students and parents 

Private educational institutions

Small-scale, medium-scale and large-scale businesses

Government organisations

Healthcare organisations

Start-ups

Non-profitable organisations

Non-governmental organisations
LMS is used by various sectors for different training purposes, and it does play a crucial role in the success of any enterprise.
What are the types of LMS?
As you have a clear picture of what an LMS is, let's have a look at the different types of LMS. Like any other software, LMS has various classifications, and it is quite natural for you to get overwhelmed with the vast number of LMS available in the market. Even though most of them are similar, you may find some of them as the apt choice for your educational or business needs. Let's compare the main types of LMS to see which one fits your needs.
Based on formation, LMS is classified into:
Cloud-based LMS –

A

cloud-based LMS

is made by a third party and is offered on a subscription basis. This platform is hosted on the cloud. You can start using them right away without having to install anything on computers or web servers. It is easier to use as the vendor supports the systems, installation, updates and server monitoring. You don't have to bother about its ongoing maintenance. 

Self-hosted LMS

– A self-hosted LMS is a web application. Your LMS vendor will guide you to download it from their site or offer you software discs. A self-hosted LMS platform should be installed, configured and maintained all by yourself.

SaaS LMS

– It is a

cloud LMS

that functions on SaaS (software as a service). It is based on the internet rather than any computer. Since the LMS is hosted on the provider's server, you do not have to install anything on your PC or hard drive. In this type of service, you may choose the provider, get a free trial, and pick a pricing option according to your requirements.

Open-source LMS

– An open-source LMS has an open-source code that you can use. You can access it and modify the code to customise it exactly according to your needs. However, you will need an additional team of IT experts to take care of the installation, customisation and maintenance.
Based on industries, LMS is divided into:
 As the name suggests, educational LMS is made for educational institutions such as schools, colleges, universities, private tuition centres and independent tutors. Learners can enroll in any online course of their choice, attend sessions, exams and get graded by their tutors.
Following are the advantages of an academic LMS:
Easy accessibility.

Increased learner achievement.

Higher learner engagement rate.

Improved communication.

Time-saving.

Flexibility in learning.

Cost-effective.
With all these benefits offered to teach online and earn money, who would say NO to an LMS.
This type of LMS is usually opted for by corporate companies and business organisations. It is generally used to train newly hired and existing employees, partners as well as customers. Still confused whether a business organisation needs an LMS? We have already stated a few reasons why you need a corporate training LMS for business that can give you a detailed insight.
Below are the main categories of training conducted by a corporate training LMS:
Onboarding training

– Conducted to welcome new employees to an organisation. Try our detailed article on

how a corporate training LMS helps in new employee onboarding.

Compliance training

– Conducted to train employees on the various state, industry or company mandated rules and regulations that apply to their roles and responsibilities in the organisation. See

how to boost compliance training results with the right LMS.

Partner training

– Conducted to make your partners armed with expert-level knowledge. Check out the

easy ways to find the best partner training LMS.

Employee training

– Conducted to train employees to acquire new skills and stay up to date with the current industrial standards.  Make sure to use

the best learning management system for employee training.

Customer training

– Conducted to educate customers on the product or service offered by the company so that they can use it to its maximum potential. We have figured out

how to find the best learning management system for your business

. Give it a shot.

Sales training

– Conducted to train employees to enhance their skills to sell more efficiently and ultimately boost your sales. Have you tried

the best LMS for corporate training that can drive your business to success

?

Customer success training

– Conducted to train the frontline staff; that is, the customer success team to help them acquire the skills and knowledge to deliver the best customer service. While choosing an LMS, make sure it has all the

essential features to enhance your corporate training.
What is the purpose of an LMS?
The LMS serves each organisation differently. The role of LMS depends on each organisation's objectives, their teaching policies, and what they wish to achieve with an LMS. It serves as a virtual hub where learners can easily access learning resources. You can use LMS to identify the existing learning gaps using analytical data and reporting and fixing such issues. In simple terms, LMS is a virtual hub where organisations and educators can collect, store, save and track data. 
Educational purpose

– LMS is used by independent tutors and educational institutions to host and track online learning. It is mainly used to manage, deploy and track all online training activities. You can use it to manage educational activities such as creating and delivering course content, evaluating learners and analysing their performance, tracking their progress, collaborating on various projects, making learning more exciting, and giving plus taking feedback. 

Support remote learning –

The LMS can easily overcome the limitation caused by geographical barriers. Hence, educators can teach learners across the world. Also, members of an organisation can attend various training sessions through an

enterprise learning management system

from wherever they are.

Improve the onboarding process –

Newly hired employees might struggle to remember every detail about the office and its history. If you have a corporate LMS and a proper online course for

onboarding training,

it will be helpful for the newbies to learn at their own pace. 

Train employees/customers/partners –

You can train your employees, customers, and partners with a

corporate training LMS

. It helps to avoid business disruptions and knowledge gaps and helps cut down the cost of conducting traditional training.
What are the benefits of LMS?
An LMS has plenty of benefits. Let's explore one by one.
Consistent training quality –

The LMS enables educators and corporate trainers to maintain consistent quality in online training without depending on the trainer's skills. The learning materials can be created and managed to allow any learner to access courses at any time and begin their learning process at their own pace.

High storage capacity –

LMS allows you to collect and store any amount of data in a single space. It even makes handling such huge data struggle-free and even updates the materials when needed. The

Learning Management System

does have advanced end-to-end encryption, which lets you avoid any misuse and mishandling of the data.

Improves retention rate –

An

all-in-one LMS platform

with an easy user interface and a simple navigation layout will definitely contribute to the improvement of user experience and thereby increase the retention rate. Check out our blog on

strategies to boost the learner retention rate in online education.
Unlimited access to learning resources –

LMS can provide unlimited access to the online learning resources to its users. You have to create, upload and publish the materials to your

e-learning platform

. Learners can also access LMS platforms through smartphones and tablets, which means information can be easily accessed even if you are moving.

Easy learner tracking –

You can track learner activity on your

online coaching platform

, such as how many times a particular learner has logged in and who

has completed the work you have assigned. This capability to track and record data also means things like test results are automatically collected and saved in one place to be easier for you to access and review.

White-labelling –

To offer an authentic learning experience to your learners, you can brand your

online training platform

by the option of

white-labelling

. You can personalise the platform as you wish since you pay for it. We have also done a

comparative study on the best white-label platforms

just in case you needed it.

Reduces cost –

LMS saves costs through one-time course creation and can be scaled up easily. It also saves money by cutting down classroom rentals, transportation and accommodation, instructor's salary, and learning material printouts.

Customised learning –

LMS allows learners to utilise multiple learning paths and resources. Therefore, everyone gets customised online training, which is needed to enhance their skills and knowledge. An LMS serves the different learning needs of the learners based on their roles, learning objectives, and skill acquisition needs. Using an LMS, trainers can even allow the learners to unlock the navigation, which helps them select their courses and training activities. That highly delivers more effective online training experiences and increases satisfaction amongst the learners.

Easy updates –

Make changes in the outdated materials and modify your course content through an LMS. All you need to do is log in to your LMS and update the new trends or data. The LMS will automatically send the changes to the learners in real-time.

Distance is no more a barrier –

Virtual learning

through an LMS platform makes it possible for remote learners to access content from anywhere so that nobody misses any learning opportunities.

Multimedia support – While teaching through an LMS platform, you are free to choose any tutoring approach and select the most appropriate method for the topic. With advanced technologies, LMS supports various multimedia content, thereby helping learners better understand and learn from experience.
Encourages social learning –

An

online coaching platform

fosters social learning in training programs. It provides avenues for collaboration, discussion and enables your learners to acquire knowledge by distance learning tools. You can easily add links to Facebook, Twitter, Linked In, and other platforms that benefit your learners. 
What are the key features of LMS?
Now that you have a clear understanding of what an LMS is, how it works, its benefits, and who can make use of it, let's jump to the key features that you should consider while choosing an LMS. These features include:
Website builder – To personalise your brand with readily available templates without any technical skills.
Mobile learning – To get a mobile app that is much convenient for today's scenario of online learning.
Branding or white-labelling – To make the LMS user interface look and feel as if it's an extended part of your own brand.
Struggle-free hosting – To host LIVE sessions and webinars to enable unlimited learners to participate through audio and video.
Cross-device optimisation – To use your LMS on smartphones and tablets and let learners study even offline.
Third-party tools integration – To integrate with third-party tools to promote your online courses.
Certification – To upload and award personalised digital certificates based on your learners' learning outcomes.
Security – To ensure the security of your content and data.
Payment integration – To integrate multiple third-party payment gateways to accept payments directly to your bank account.
What are the things to consider before choosing an LMS?
Here is a checklist of things you should consider before choosing an LMS :
Cost

Scalability

Ability to integrate

Input from users

Implementation assistance 

Reviews from existing customers
How to choose the right LMS?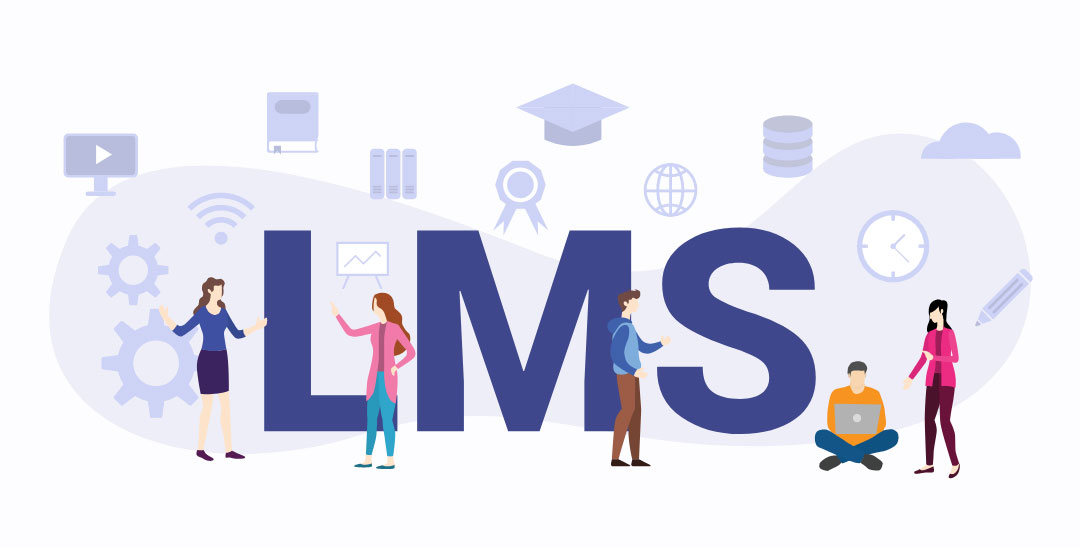 Now that you have an overview of what an LMS is and the various benefits and features it has to offer, it's essential to understand how to choose the right LMS for your organisational purposes.
Before bidding on vendors, consider these steps to establish a value proposition. 
Identify your training needs

– To identify your needs, you should completely understand which aspect of your learning initiatives you want to improve or what learning impact you are trying to make with the help of an LMS. By identifying your objectives, you can narrow down the list of potential LMS by a significant margin.

Define your LMS requirements

– The key features are highly recommended to help you start compiling a list of the best learning management systems.

Evaluate the list

– Narrow down the list and start analysing the pros and cons of each one. You can browse their website and compare the capabilities. Rule out those which are not up to the mark.

Make a final decision

– Reach out to those you have shortlisted to request a demo of their product. If possible, get a free trial so that you can finally decide the right one.
Here are a few reasons why Mykademy is the number one LMS platform in the market: 
Mykademy is a

cloud-based LMS platform

that helps you create interactive and engaging multimedia content and sell it online through your own website.

Mykademy lets you differentiate the design and delivery of your course content. 

With the

LMS platform

provided by Mykademy, you can create and upload content that works on multiple devices for a great on-the-go learning experience.

Mykademy lets you add interactive content in various formats like visuals, pdfs, ppts, and lots more. 

Mykademy's tracking system gives rich data analytics, insights on your content consumption and measures your learners' progress.

Mykademy helps you create a virtual learning environment and reduce your printing and distribution costs. 

Mykademy lets you use inbuilt and integrable third-party marketing tools using Zapier to promote your online courses.

Mykademy enables you to integrate multiple third-party payment gateways to accept payments directly to your bank account in a few minutes without any transaction fee.

Mykademy helps you to create custom admin roles, manage payments, sales reports and invoices.

Mykademy lets you generate custom reports that give you an overview of your courses, learners, tutors and other admin roles.

Mykademy ensures top-class security on your content and data with end-to-end encryption.

And finally, Mykademy empowers educators and enterprises to conduct online training without any hosting hassles.
These statements are more than enough to prove that Mykademy is one of the market's best white-label e-learning platforms.
Launching an online training program with Mykademy is more than just a screen share. You can upload the learning materials, invite learners, track their progress and gather their feedback. No technical skills are required!
To delve deeper into the robust learning management system offered by Mykademy, sign up for a 14-day free trial.