Be it schools or universities, a start-up, a corporate company or a multibillion-dollar business, pretty much every organisation has or is about to have an LMS. But be aware that if you choose the right LMS, everything will go smoothly with your online training, and if you choose the wrong LMS, it might lead to a mess. With numerous options available in the market, selecting the suitable LMS for your business could be challenging. However, with so many factors at play, it's vital to understand your requirements and the right LMS you need before proceeding. Therefore, it's better to follow a proper procedure when making this decision.
Find the best LMS platform, right here, right now!
Get started with a 14-day free trial.
There is a detailed process that, if followed, can assist you in making the best LMS decision. And that's what we'll talk about in this step by step guide. Let's get started!
What is a learning management system?
Despite the growing popularity of online courses, some people are still perplexed by the term 'learning management system'. It is a SaaS (software-as-a-service) product specifically made for the digital learning era that helps you create, manage, and deliver distance learning courses. It is an online platform for hosting and delivering courses and training programmes. The LMS platform, which focuses on online learning and teaching, is a virtual space where learners and teachers can meet and access all of the resources they require. Furthermore, the platform functions as a management system by assisting tutors in organising their online courses.
The abbreviation of the learning management system – LMS encapsulates its core aspects:
L (learning)

–  A

learning management system

lets you create centralised online courses and training materials repositories. It will become a 'one-of-a-kind' source of information in your field, allowing you to maintain and expand your company's in-house expertise.

M (management)

– An

LMS,

unlike file-sharing services, is not simply a collection of files; rather, it is a well-organised system that enables you to manage the online training process. You can manage courses and learners, as well as boost your productivity.

S (system)

– An

LMS

simplifies the most tedious and time-consuming tasks, such as grading, statistics processing, analytics, and report preparation. You can also train your learners while managing all of the processes from your office computer. To put it another way, an

LMS

 can act as your own online school. The system stores and creates online courses, give learners access to the content and assists you in evaluating the results.
In a nutshell, LMS software comprises two parts:
A server component that handles most of the works such as course creation, management, delivery, notifications, user authentication, data delivery, etc,.

A user interface that runs as a site inside your browser and is used by administrators, trainers, and learners.
In addition, an LMS is a wise investment for the long term. When you decide to start an online coaching business, one of the first decisions is which LMS platform to use. It might take some time and money to set up, but it pays off in the form of better-trained learners. That is if you select the best option.
What is the use of an LMS?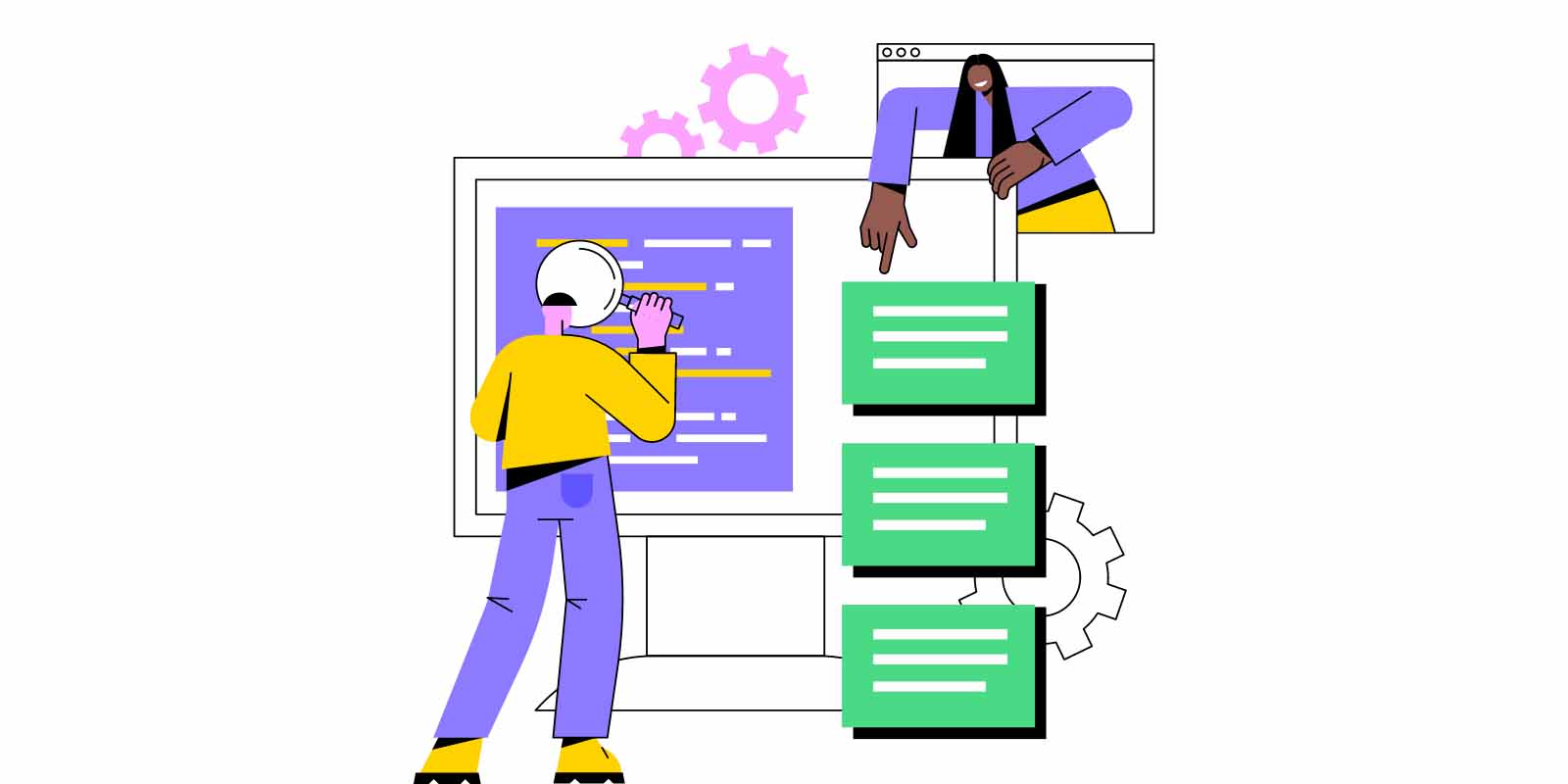 An LMS can be used for a variety of learning activities and has already proven to be a valuable business tool, with both large, medium, and small scale businesses utilising it. The following are some of the most common uses for a learning management system:
Education –

An

LMS

manages and delivers online courses. It enables you to create content, organise it into courses, deliver it, enrol students in these courses, and monitor and evaluate their performance. For general educational programs, a

n LMS

is a good choice. It can help a school conduct classes online, especially during this pandemic time, to educate its employees, customers, other stakeholders, or an NGO to educate the general public. For all of these reasons and many more, online education is here to stay and has the potential to become the future of learning. 

Employee training

– Be it any industry or business; employees must grow and develop their skills for the organisation's progress as a whole. A

corporate training LMS

dramatically simplifies this process by establishing a good learning pace for each employee. Furthermore, because there is no need to organise training for each department, this approach significantly reduces training costs. Finally, companies that use

LMS for employee training

save money over traditional classes and have better control and information on their employees' progress, thanks to integrated monitoring tools and reports.

Onboarding process

– Onboarding is always difficult for both companies and newly hired employees. An

LMS for corporate training

speeds up the

employee onboarding

process by replacing meetings where a company's background, the rules, duties, workflow, and other nuances of working in the organisation are explained to newcomers.

Corporate training

– An

LMS

can also be considered a

corporate learning management system

because it is used for multiple corporate training purposes, not just for onboarding or training employees. It can efficiently train your employees, new recruits, customers, partners, vendors, and other stakeholders.

Knowledge retention

– It is critical to provide an effective training process for maintaining knowledge. A knowledge retention program ensures that your business's valuable skills, techniques, and information are retained. An

LMS

is a massive knowledge base where the training materials are accessible to all users. Any information about important training methods will always be in one place and accessible to all learners at all times.
What are the different types of LMS?
While searching for an appropriate LMS, you should know that it is a time and energy-consuming process. However, it's worth the struggle. There are mainly two types of LMS:
Proprietary LMS

– This type of

LMS

is distinguished by the fact that the platform is entirely owned by a developer, and you, as a user, must pay a reasonable fee to use their product. You will need to adapt to any changes in the system while using this approach. You will receive ongoing customer support, excellent service, dependable and consistent functionality in exchange. You also receive excellent user service, which includes

LMS

deployment in your educational process, 24/7 support from the vendor specialists, regular updates, quick bug fixes, and so on. This type of

LMS

is ideal if you need to make a profitable

online course selling business

or digitise an educational process as quickly as possible. 

Open-source LMS

– This type is distinguished by a lesser price or entirely free and is therefore known as 'free LMS.' In contrast to the flexibility offered by the

LMS

, support from a developer's end is frequently inadequate. You will not find responsive user support available at all hours of the day to fix your problem. All support is limited to the website's FAQs and the official documentation you must understand (which requires technical knowledge). You must seek answers to questions from other users on official or unofficial forums.

Open-source LMS

is intended for technically advanced users. Deployment and platform modification are also your responsibilities unless you hire a separate team of professionals. You may also check the

reasons why free LMS is not the best choice for online training.
How does the deployment of an LMS work?
An LMS deployment could not be easier, especially when compared to other types of corporate software. The  LMS is generally delivered as a SaaS (software as a service) and hosted in the cloud, requiring no installation.
In general, three deployment options are available:
Self-hosted LMS

– A self-hosted

LMS platform

is a web application that you can install and maintain on your own server. It is usually sold as a licensed product. This option necessitates familiarity with the installation procedures and places you in charge of data backups, server software upgrades, and machine scalability. Following the version updates, you will need to contact the vendor to renew your license. 

Private cloud-hosted LMS

– Here, you'll get a private

learning management system

that is safer and doesn't share resources or codes with other businesses, giving you the best performance and security possible. Installation, monitoring, and updates are handled for you while you have direct access to your

LMS

to integrate it with other systems or customise it.

Cloud-based LMS

– For most people and businesses, the

cloud-based LMS

could be the best solution. The team that created the platform is responsible for server installation, upgrades, monitoring, and everything regarding storing your training data. Your cloud provider may also provide free or paid backups and multiple upgrade options.

Cloud-based LMS systems

are commonly sold in custom packages, allowing you to select the best combination of price, performance, and features for your specific requirements. With the

cloud-based LMS

, you can create the learning content rather than manage the

LMS

. 
Because of data security concerns, some organisations avoid cloud-based learning management systems. They believe that their data on a remote server has been compromised. However, this isn't entirely true. There are various methods for keeping your data secure. For example, you could make sure that the LMS vendor employs robust encryption protocols and will back up your data.
Cloud-based LMS solutions are generally sold in custom packages, allowing you to select the best combination of price, performance, and features for your specific requirements.
The following are the general benefits of outsourcing your online course hosting:
It does not necessitate infrastructure, maintenance, or upgrade expenditures.

It has tested and approved teaching models.

System developers help you save time and money.

It has a simple function and layout configuration

Technical assistance is tailored to your specific needs.
Before choosing the appropriate LMS, you have to consider following a few steps. They are :
1. Decide your training needs
Before deciding on an LMS and getting started on your online training, clearly define your training needs and objectives. Make a list of what you want and why you want to accomplish it. For example, write down what you want to teach, the type of market you're trying to reach, and the benefits your learners will gain from learning your online course. This will assist you in gaining clarity on your requirements, laying the groundwork for the proper selection of an LMS.
2. Identify your potential customers
It may seem obvious, but knowing who you're training is critical to determining how you'll train and which solution to use. The process of figuring out your potential customers consists of certain factors such as –
Age group

– The age group of your potential learners is crucial when it comes to choosing an

LMS

. Improving engagement rates requires meeting people on their digital literacy journey. If your company is predominantly older,

an LMS

with fewer features and a user-friendly interface would be a good choice. A difficult-to-use

LMS

may turn off learners who have recently become digitally literate. If most of your audience belongs to the millennials, you might want to consider a system that incorporates gamification and social learning. Learning becomes more engaging with an

LMS

that simulates millennials' digital interactions outside of work.

Size

– To begin, determine how many people you intend to train. Is it a group of people or the entire company? If you're planning on training a smaller group of people, the options available to you may be limited. Several

learning management systems

set minimum learner requirements. If your company is expanding or has a huge turnover, you'll want to consider the various pricing plans and mass user registration features of the

LMS

before proceeding to buy.

Skill level

– To ensure the success of your online coaching, it's also critical to assess your students' technical skill levels. Because the functionality of your

LMS

will determine how well your site/app executes whatever features you include. Identify whether everyone is at the same level or are some students more advanced. If you're training people with diverse skill sets, look into a system that allows you to segment your users, create multiple learning paths, or use placement tests. If learners are forced to finish lessons that they have already grasped, they may be less motivated to continue learning. However, this will not be an issue if all of your students start from the same point.
3. Figure out the technical requirements
As a next step, make a list of your site's features to meet your training needs and outcomes. For example, if the majority of your learners will be using mobile devices to learn, the LMS should include robust mobile-friendly features; if your site has multiple instructors, that functionality should also be available, and so on. However, the primary requirements to consider for your online training are course content (of multiple types), learning models, user management, reporting, security, customer support, and integrations.
Course content

– Determine what type of content you already have and what kind of course content you intend to create in the future. Make a list of file types that must be supported (e.g., SCORM, PDFs, ppts, external links, audio and visual files) and a list of file types that would be nice to have in the future. Another aspect of technical content to consider is the source of the content. Some

learning management systems

have built-in content editors that allow administrators to create learning materials directly from the platform or a team that can assist you in creating custom courses from your existing materials.

Learning models

– Another way to carry out your search is to decide whether your training will be entirely online or a combination of online and offline components. If your L&D strategy includes instructor-led training, you'll need an

LMS platform

that allows you to manage schedules and locations while keeping track of attendance.

User management

– Registration will be a factor to consider depending on how many people you plan to train. If you're training a large group, look for

LMS systems

that allow you to enrol unlimited learners or enable mass registration. An automated data feed will reduce admin workload if your company has a high turnover rate. If you have various administrators working on the

LMS

, make sure the system you choose allows for shared control.

Reporting

– It's all about the outcomes when it comes to learning and development. Make a strategy for evaluating your learner's performance. Go back to your original goals and make a list of the metrics you'll need to track your progress. Decide whether or not the data needs to be exportable. Group metrics or individual reporting: which do you prefer? Do the reports need to be customised? 

Security

– Security is crucial in

online training

, especially when it comes to compliance. Learners should not access each other's accounts, and their information should be kept private. Consider the following:
Where is the data stored?

User identification is required.

Who has access to what information?
Customer support

– A reliable support service is another plus. While you want your

LMS solution

to be intuitive and user-friendly, you also want to be able to get assistance when needed. Once you've narrowed down your options, try contacting their customer service to see if their responses meet your expectations.

Integration

– Do you have any existing Business Intelligence or HR software in your company? Is it necessary for the

LMS

to connect to it if this is the case? While assessing the various solutions available, answering these questions will clarify choosing one. 
Technology is one thing that keeps evolving. Therefore, you may start thinking about incorporating some additional features you'd like to have once you've made a definitive list of your requirements. You may ask for suggestions from your admins or learners as well. Here is a list of additional features that you would love to have and can boost your online training:
White-labelling

–

White-labelling

makes training appear to be an integrated part of the learning process. Most

learning management systems

include basic

white-labelling

features like logo or theme colour, etc. If you want to make training even more convenient, consider adding the platform to your domain. Rather than

creating your own LMS

from scratch, which can be time-consuming and costly, there are

LMS

vendors willing to sell you a customisable product that can be tailored to your company's brand. Investing in a

white-label LMS

will reduce the time it takes to market and train employees and provide a simpler solution with expert resources. Because your end-users will feel like the

LMS

is part of your brand, such customisation and personalisation will increase user engagement. Get to know

all about white-labelling

before purchasing so that you will get a better picture.

Mobile learning

–

Mobile learning

is a new smart way of using mobile devices to access learning content. It's no secret that we use mobile phones for everything these days. Connecting with friends and family, gaming, online shopping, watching movies/web series, ordering food, and so on. Take advantage of the situation. You should try to make

m-learning

your goal. Select an

online learning platform

that complies with this requirement.

Mykademy's all-in-one LMS platform

is ideal in this case.

Social learning

–

Online coaching businesses

or organisations can use a

social learning platform

to create, manage, and deliver online training programmes. Organisations have begun to incorporate social media into their marketing and communication strategies, as the data gathered from social media allows them to identify the market dynamics & global trends and thereby evaluate statistics in nearly every vertical. Likewise, an

LMS

with built-in social media functionalities can improve the quality of online training and make learning more engaging. Learners will find online training highly engaging and collaborative if they use an

LMS

that can engage them via social learning.

Gamification

–

Online training businesses

and organisations can benefit from gamification by keeping learners engaged through the gamification process, especially since millennials make up a large part of the workforce. Gamification makes learning fun and engaging for those who want quick results. An

LMS with gamification

features increases learner engagement, boosts employee skill development, and aids HR professionals looking for an innovative change management solution and managers looking to reward learners with leaderboards and badges. Self-tests and challenges provide metrics on learner performance both individually and concerning others, fostering competition and leveraging the basic human desire to succeed in groups. 

Digital certificates

– Business life has become more digitised, which has several benefits. Most businesses have adopted remote work, a new working style that has become the new normal in our lives. They have begun implementing

LMS systems

that allow employees to receive digital certificates, boosting employee productivity and advancing their careers. Employees can attend training while working remotely, and gain skills due to this training, thanks to digital certificates. Existing employees can better manage their workload by honing their skills and abilities in this manner. Employees are also more motivated due to the certifications they have received.
4. Determine the technical expertise of your trainers/instructors
Generally, technology is an enabler, but it can also significantly hinder growth if implemented inadequately. If your online training site's features are too complex for the instructors to navigate, it will cause a slew of problems even before your training gets off the ground. Not only will you have to devote a significant amount of time and resources to training your instructors, but your learners will also be subjected to a less-than-ideal learning environment. Therefore, when selecting an LMS, you should consider the input of your teaching staff. Only they know how comfortable they are with the options you're considering and what tools/material will help them learn what they don't know about the LMS.
5. Examine the technical proficiency of potential learners
Just like analysing the technical expertise of your trainers, it's vital to assess the technical skills base of your learners to guarantee the effectiveness of your online training. Because the functionality of your LMS will determine how well your site/app executes whatever features you include. A well-designed LMS can simplify every feature, whereas a sophisticated LMS can make even the most basic tasks more challenging. Hence, keep your learners' technical abilities in mind when selecting your LMS.
6. Choose your desired level of control
The LMS platforms give their users a lot of flexibility regarding what they can do and what they can't do. Some platforms give you complete control over every aspect of the platform (including design, UI and UX, feature set, and so on). In contrast, others only let you create content and deliver courses without giving you control over the platform's functionality, design, or UX. Then there are those that fall somewhere in the middle, giving you partial control over the platform's functionality. You should figure out how much control you'll need based on your goals, objectives, the needs of your training staff, and the needs of your learners.
7. Evaluate the LMS options
You should have a clear idea of what you want and don't want from your LMS by this point. You've laid the groundwork and are now ready to weigh your options. Start considering your options once you've solidified your requirements. This list may become quite lengthy with so many learning management systems available. Based on your needs, create a shortlist of popular LMS options and conduct a comparative study on the best LMS platforms for online coaching using the checklist you created. You could filter them by the features on sites like Capterra or G2 to develop a shortlist of the best LMS platforms to choose from. Asking your peers about their LMS experiences or reading online reviews are good ways to narrow down the list. Remember to take notes as you go forward. Differentiating between solutions is a time-consuming process, and different SaaS platforms may start to resemble one another. Using an Excel sheet to evaluate the various options and keep track of the notes may be tiring at first, but it will save you time in the long run. 
Once you've created a list of choices, it's time to narrow it down even more. You can do this by looking into a vendor's past performance. Have they received any accolades? How long has the company been in operation? Do they have a track record of refining and improving their product? How many companies have they worked with so far? Green flags include awards, years in business, innovation, and experience. Another thing to look for is a strong knowledge base – are there any how-to articles or support video tutorials? What is the vendor's policy on updates? Will you be notified beforehand? Will you have to pay extra if you want to be upgraded? It's time to proceed once you've narrowed your list down to 3-5 vendors.
Based on your needs and training goals, make a list of use cases for the LMS before requesting a demo. Prepare a list of questions or inquiries to ask the LMS vendor's representative. Use this time to learn about hidden charges, user data privacy, customisation, or any other information you didn't know about during your research. Finally, assemble all internal stakeholders and initiate the demos.
10. Take a trial (if available)
While selecting an LMS platform, the demos will give you more insight. The real test, however, is to use the platform by yourself. Almost all well-known LMS platforms provide a trial period for customers to test the platform and see if it meets their needs. Most of them offer a free trial period of one week or month. Take advantage of this by signing up for the platforms that have been shortlisted. During this time, you can use the platform to see how comfortable you, your trainers, and your learners are with it. With this trial, you could thoroughly evaluate the LMS software and determine which option is best for your needs. Before proceeding, make a list of potential circumstances and use cases like – 
What does it look like for a learner attempting to complete a course? 

What happens if a user is deleted? 

Is it simple to download reports? 
Take advantage of this opportunity to contact their customer support team if things aren't as simple to use. Also, check whether the assistance is available right away or have to wait. If you're having trouble using the platform, take it as a bad sign because it'll take your users longer to learn how to use it.
11. Make a final decision
There is no such thing as a one-size-fits-all solution. There would be fewer learning management systems on the market if there were such solutions. When selecting an LMS, your goals must be clear. The more precisely defined your requirements are, the easier it will be to choose the appropriate LMS. Finally, choose something that will expand with your business. After all of your efforts, the last thing you'll want to do is repeat the cycle of finding and switching to a better LMS.
And it's time to make the decision! After carefully following each of the steps listed above, you'll be well-equipped to make an informed decision about which LMS platform to use to power your online training. It's also likely that by the end of step 10, you'll have figured out which option is best for you. Make your decision and begin the development of your e-learning site.
And that's how you could pick the best LMS platform for online coaching in 2022. While the decision will still necessitate a good deal of time, the process mentioned above will take you in the right direction and ensure that you make the best decision possible. And in business, the process is everything; at the end of the day, your business processes determine your success or failure!
Wondering whether it's possible to test an LMS platform for your business? Try Mykademy's 14-day free trial or schedule a demo.